I apologize for slacking on the blog lately. I have 3 kids that are so done with summer break (and each other, and me) and are taking up more time than normal. When school starts in a couple weeks you'll see a virtual explosion of blogs.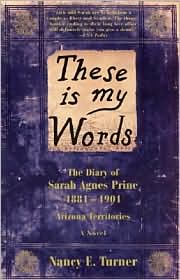 "A nice girl should never go anywhere without a loaded gun and a big knife."

--Sarah Agnes Prine

Today I recommend another of my favorite books,

These Is My Words: The Diary of Sarah Agnes Prine, 1881-1901

by Nancy Turner.


These Is My Words

is the first in the Sarah Prine Series. Based on Nancy Turner's family memoirs and set in diary format, the novel follows Sarah and her family as the travel from the

New Mexico Territory

and carve out a new life on a ranch near

Tucson

in the 1880's. To steal a sentence from the School Library Journal, "Turner describes the trip in such detail that one has a sense of having traveled with Sarah, experiencing all of its heartache and sadness, its backbreaking exertion and struggles, its danger and adventure, its gentle and lighter moments."

Sarah is vivacious and gifted young woman, who starts out in the book as an illiterate 17 year old. Her writing changes and evolves as Sarah pursues learning through books and not only self-educates herself, but grows as a loving wife and mother.

These Is My Words is beautifully written, sometimes heartbreaking, but overall heartwarming and uplifting. I hated to put the book down, and fell in love with spunky Sarah. I loved how well the diary format worked, and finished the book with the resolve to write in my own journal more faithfully. Sarah's story continues in Sarah's Quilt and The Star Garden.

Nancy Elaine Turner began writing fiction as an assignment for a class at Pima Community College. My book club called Nancy Turner after reading

Sarah's Quilt

and she was very nice and funny.
One little tidbit she told us that you may not find elsewhere was that she spent a frantic day or two putting together an actual small quilt to send to her publisher so they could see what she envisioned for the cover of
Sarah's Quilt
. I wonder if she sewed a quilt for T
he Star Garden
, too. You can find out more about Nancy Turner at her
website
.