I had someone ask me if I had some ideas for some light reading with engaging characters and good writing. So I'll be trying to help out with that request the next little while.
Some people feel that "light" reading is a waste of time. Perhaps they feel a book (or movie, or play, or piece of artwork, for that matter) should convey a deep message that makes you think or re-evaluate your life or beliefs. Don't get me wrong, I have read some books that change me, and I have loved them. They have great value and I admire writers who can create a story that will do that. However, reading for simple entertainment also has its own value. I read a lot of non-fiction, and when my brain needs a break I love escaping into the pages of a good book. It helps rejuvenate me so I can tackle the weightier matters of life: kids, bills, yard work, writing, and the unbelievable cost of filling the tank of my minivan.
So, in keeping with my thoughts on the value of reading just to escape and unwind, this week I'm going to recommend another of my favorite series. I have plenty of standalone favorites, but a series is nice because, if you like it, there are more books with the same characters that you can read
immediately
. And if you're an addict (like me) you start getting twitchy before that next fix.
I really enjoy reading the Amelia Peabody Series from author Elizabeth Peters (who also writes under the pseudonym Barbara Michaels). Starting in 1884, the first book of the series is
Crocodile on the Sandbank
.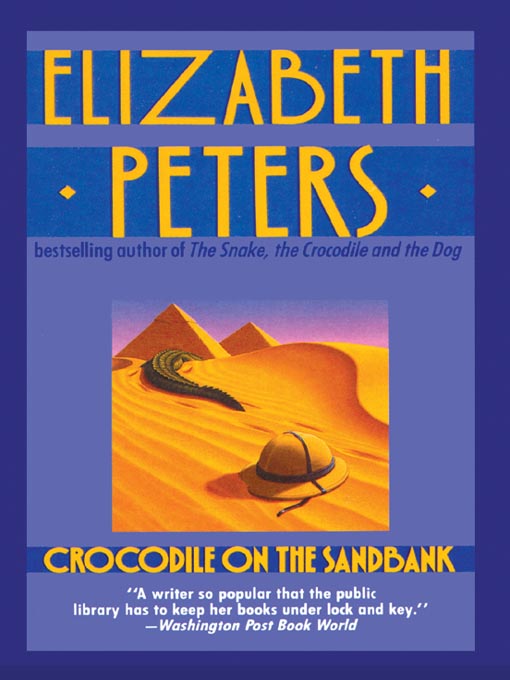 At thirty-two, strong-willed Amelia Peabody, a self-proclaimed spinster, decides to use her ample inheritance to indulge her passion, Egyptology. On her way to Egypt, Amelia encounters a young woman named Evelyn Barton-Forbes. The two become fast friends and travel on together, encountering mysteries, missing mummies, and Radcliffe Emerson, a dashing and opinionated archaeologist who doesn't need a woman's help -- or so he thinks.
The series is an amazing family saga, encompassing three generations, a world war, and thirty-five years of turbulent history. Amelia and Evelyn married brothers -- Amelia accepting the hand of the distinguished archaeologist Radcliffe Emerson, and Evelyn that of his younger brother Walter. Amelia's love of Egypt almost equaled her love for her hot-tempered (but extremely handsome) husband. She joined him in his annual excavations, which, except for a few brief hiatuses, continued for the entire thirty-five years.
This series really gets fun once you involve the second generation and run-ins with the Master Criminal, who most definitely has a crush on Amelia. I re-read these books often, and chuckle at the wonderful personality of Amelia. I also like running to the dictionary every once in a while to look up words I don't know, but somehow the characters would actually say those words.
Crocodile in the Sandbank
was published in 1975, and the latest installment,
Tomb of the Golden Bird
, was published in 2006. For more information on the series, visit
AmeliaPeabody.com
.